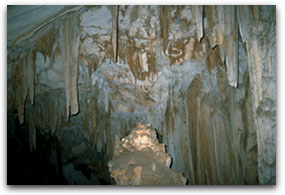 Dorgali - Grotta del Bue Marino
This is a big village that rises on the slopes of the mountain. This area is full of ancient Nuragic settlements and a visit to the Grotte di Ispingoli is worthwhile. Inside this cave there is an enormous column, 38 metres high, formed by a stalactite and stalagmite. It is the highest column in Europe.
The most famous marine places near Cala Gonone are the Grotta del Bue Marino and Cala Luna the destination of the first part of this our "navigation" along the coast of Sardinia.
The Cave is called "Del Bue Marino" because it has always been inhabited by monk seals. It is 2 kms. from the port of Cala Gonone.