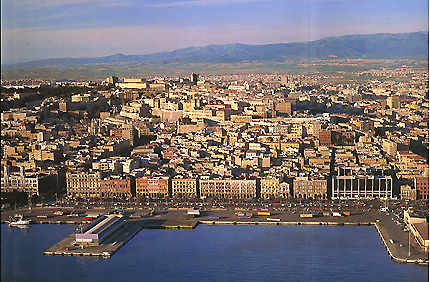 The choice between ferry and airplane is a personal one, depending on time and availability.
The Elmas airport, which is about ten minutes from the center of town, is served by several airlines offering daily flights to the mainland, other island locations, and international airports. Depending on the time of year, flights might be direct or with a stopover in Rome or Milan. Information about direct charter flights to Sardinia can be obtained from travel agents.
Daily ferries operated by the Tirrenia company link Cagliari directly to Civitavecchia, with less frequent connections during the week to and from Arbatax, Naples, Palermo, Trapani and Tunisia. The ports of Olbia and Porto Torres can be reached from Genoa. It is very important to make reservations early, especially if you are planning to travel in the summer or other periods of heavy traffic, or are traveling with a car.
For tourists already in Sardinia, Cagliari can be reached by train or bus. There are two railway networks: the Ferrovíe dello Stato (National Railway), with a station in Piazza Matteotti near the port, and the Ferrovie della Sardegna (Sardinian Railway), whose station is in Piazza Repubblica. The main lines are: Oristano - Macomer - Porto Torres - Sassari - Olbia and Iglesias - Decimo - Siliqua - Carbonia. The public bus station (ARST) is in Piazza Matteotti, near the train station. There are also dependable private bus companies.
There are no superhighways for motorists who wish to travel to Cagliari from other island locations, but there is a network of provincial and state roads of varying degrees of efficiency. Most similar to a superhighway is the SS131, also called the Carlo Felice (after the Savoy king who promoted its construction). It connects Sassari and Porto Torres to the capital, with exits in Nuoro, Iglesias, and Olbia.