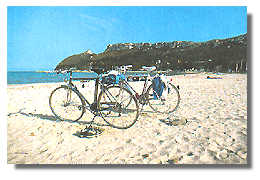 Cagliari's winter is brief and mild, and because of its latitude and height above sea level, Cagliari's climate is gentle. More often than not, the sky is limpid and blue. The weather is often so mild that spring seems to have lingered past its time.
In summer the average temperature is 23-24 C (74 F), and in winter the average temperature is 12-13 C (54 F).
Except for occasional drops of temperature in the winter, the mercury remains fairly constant until the summer, when temperatures can reach over 35 C (95 F) during the hottest hours of the day.
The swimming season is prolonged and a swim in May or October is not uncommon. While benefiting tourists, the scanty rainfall often causes difficulty for the island's population.
High humidity is one of the most notable characteristics of the local weather. Fortunately, the stifling summer heat and damp winter atmosphere are countered by an almost constant breeze, that can become quite a strong wind. And any comparison with tropical climates fades when the impetuous mistral wind blows.