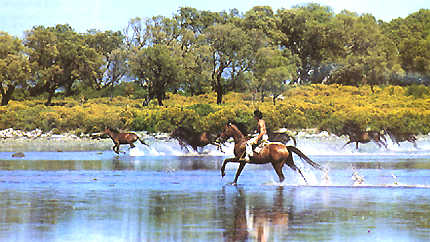 North - Hundreds of wild ponies live on the Giara of Gesturi. These ponies are famous for their small size, averaging little more than one meter in height. The high basaltic tableland that is their home dominates the view, and is covered by forest, Mediterranean bush, and grassy meadows.
Barumini is at the foot of the plateau, in a corner of the Marmilla plain. The most important evidence of Nuragic civilization on the island is found here. The principal monument, Su Nuraxi (the Nuraghe), is remarkable for its plan and architecture, as well as its state of preservation. It is without equal elsewhere in Sardinia. A detour to Villanovaforru while returning toward Cagliari will permit a visit to other archaeological artifacts and an excellent museum.
East - The serpentine coastal road along the eastern arch of the Gulf is the most beautiful drive near Cagliari. It offers an ideal vantage point from which to observe the breathtaking view of white sand beaches, crystalline water, and distant sailboats. Seemingly endless beaches of fine sand set off by granite boulders Iying half submerged in transparent turquoise water make Villasimius a popular holiday destination. A 17th century fortress stands sentinel over the well-equipped tourist port, which is a haven for boats sailing along the coast. The islands of Cavoli and Serpentara, well known to local scuba divers, and the lagoon of Notteri complete the natural setting.
"Trenino Verde" (Little Green Train) - It's worth getting up early in the morning to take a trip on this old steam locomotive, and discover the unspoiled beauty of Sardinia's interior. The Trenino Verde travels time-worn routes among forests, over bridges, and through tunnels into some of Sardiniays most beautiful mountain areas. The principal lines pass through Mandas on their way to Sorgono or Arbatax.