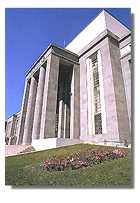 The end of the 19th century and the first two decades of the 20th century were dominated by the figure of Mayor Ottone Bacaredda, who promoted many public works that changed the face of the city.

The fascist years in Cagliari were not different than those in other cities. The headquarters of political parties opposing fascism were occupied and resolute opponents were persecuted. Some, like Emilio Lussu, were forced into exile.
However, the fascist period was not completely negative. Due to the efforts of an enlightened chief magistrate who served as mayor, the lawyer Enrico Endrich, Cagliari was spared the piccone risanatore ("healing pickax", a term used by Fascists to describe their policy of urban renewal) that altered historic urban centers in the rest of Italy.
| | |
| --- | --- |
| Cagliari's port and the Elmas airstrip were strategically important for the Mediterranean naval and air battles of WW II. The city suffered under heavy aerial bombing which took a tragic toll in terms of human life and destruction of property. | |
In recognition of its sacrifice, the martyred city was awarded the gold medal for military valor on May 19,1950. Rebuilt, the ever-growing city of Cagliari has been the capital of the Autonomous Region of Sardinia since 1949.