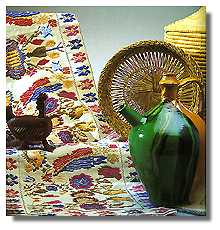 HANDICRAFTS

Some advice can be useful to the prospective customer regarding Sardinian handicrafts. Most of the items are destined for use in the home, and the fabrics, furniture, and household goods demonstrate the important role the home has always played in island life.

Wall hangings and carpets, hand towels, curtains, bed coverings, tablecloths, wrought iron, ceramics, terra-cotta, and baskets are mostly produced by feminine hands and constitute a panorama of traditional home life.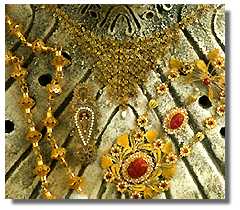 These articles are not difficult to find, but a minimum of artistic sensibility is needed to distinguish authentic handicrafts from the imitations found in some tourist shops.

Wall hangings and carpets are undoubtedly the most precious creations in the island's textile production. The current use put to these loomed articles is fairly recent; the colortul cloths originally covered the bed, or the bride's marriage chest, containing her supply of household linens.