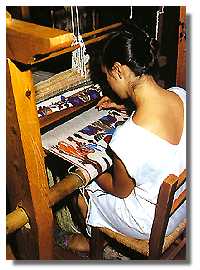 Although hand-loomed articles are produced all over the island, two villages in the Marmilla region, Mogoro and Morgongiori, are the most important centers of production. The wealth of traditional colors and designs is vast and it is not always easy to determine a place of origin, given the similarity of motifs used in different areas. A rule of thumb is that horizontally patterned, monochromatic textiles generally come from the mountain regions, and in other areas such as Sarrabus and Marmilla, strong colors and tightly textured weaving predominate.

The repertory of ornamental motifs represents a rich symbolic heritage, with elements borrowed from other cultures and traditions. The asphodel, a common wildflower, represents pain and regret. Heraldic devices like towers, castles, lions, and griffons date from the medieval period. The eagle is sometimes considered a metaphor for Christ's resurrection.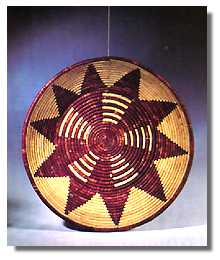 Religious symbolism is displayed in the use of the dove, representing goodness; the grape, representing communion between God and his people; and the peacock, symbolizing eternal life to the Byzantines. Other designs include branches and buds, lambs, deer, fountains, grain, and horses and riders. Magical symbols such as the sun, moon, stars, and hourglasses appear as well as purely local designs like ponies similar to the ones found on the Giara of Gesturi plateau.

An excellent shop where authenticity is guaranteed is ISOLA, run by the regional agency responsible for promoting and encouraging local handicrafts. The store is located at Via Bacaredda 176. For carpets and wall hangings in particular, the annual fair at Mogoro, held during the last week of July and the first week of August, is very interesting.