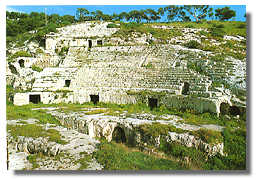 Roman Amphitheater
This is the most important monument from classical period in Sardinia. It dates from the 2nd century AD and was built to accommodate an audience of about 20.000 people. The Amphitheater still has most of the elliptic terrace, the cavea, the enclosure and the balcony from where the city elders used to watch the games.
Apart from its archaeological importance, the Amphitheater it is also used for performances during the Summer.

Archbishop's palace
Despite its recently restored facade, the Archbishop's palace still has some traces of the original Pisana pointed arch architecture. In the hall there is an exposition of some Roman archaeological artifacts. At the time of the Court it was the residence of the Prince who became King Carlo Felice.

Bastione S. Remy.
The Bastion, which is adorned with palms, holm-oak, Aleppo pine and two different kinds of Washingtonia, was built on the oldest bulwarks of Zecca and Sperone. Its facade is made of granite and yellow and white marble.
The terrace Umberto I and the Covered Walk (Passeggiata Coperta) were built in the early 1900s They were designed by the architect Giuseppe Costa.
From the vantage point of Bastion of S: Remy the historical areas of Marina and Villanova, much of the new town, the plain of Campidano, the mirror surface of the pond of Molentargius and the mountains of Serpeddì and Sette Fratelli can be seen.
The Covered Walk way is nowadays used as it was in the past for exhibitions and performances.

Carlo Alberto Barracks
These Barracks were built in 1846 to the design of Carlo Barabino from Genova, who was a Major in the Engineer Corps. The flat area on which the barracks was built is called San Lorenzo. Until 1740, this was the site of a citadel which was famous for its "Porta Reale", which was an arched gate way designed by the Turin military architect Felice De Vincenti.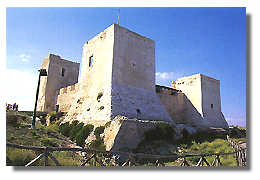 The Castle of S. Michele
This castle was built by the Pisans, in order to defend the city in the second half of the XIII century. During the centuries the castle has been used as a house, a lazaretto, a fortress and a shelter.
Nowadays, the grounds around the castle have been turned into a park.