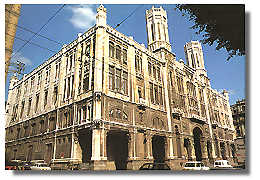 Palazzo Civico (Town Hall)
It was started in 1899 in the presence of Umberto and Margherita of Savoia. It was finished in 1907. The Town Hall is a lasting symbol to the thirty-year administration of Cagliari by the mayor, Ottone Baccaredda, who is still remembered in Cagliari as one of the best mayors Cagliari has ever had. The Town Hall represents the expansion of the city towards the sea, an urban growth beyond the walled city, which characterized the culture of the city since the end of the XIX century.
The current Town Hall was designed by Annibale Rigotti, and it was rebuilt after its partial destruction during the last war.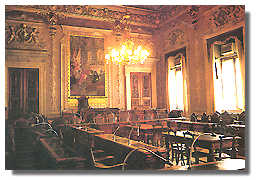 Vice Regal Palace
The Vice Regal Palace is the seat of Prefecture and the meeting rooms for the Provincial Council. The front of the building was extended in 1769 using a design commissioned by Carlo Emanuele III of Savoia. Its most striking feature is a long succession of pilasters.
The most significant internal features are the entrance vault, the grand staircase and the main meeting room.

University Palace
The University of Cagliari was founded in 1606 by Pope Paolo V. It received royal charter in 1620 from Filippo III and opened in 1626. The University Palace houses the great hall, the Rector's offices and the faculty offices.
This building was constructed, in a Piedmonts Baroque style by Saverio Belgrano from Famolasco in 1769.

S. Pancrazio Tower
This Pisan tower has dominated the Cagliari skyline since 1305. It was designed by Giovanni Capula.

The Elephant Tower
This tower was also planned by the architect G. Capula and it was built in 1307 to complement the other fortifications in Castello.
Its name comes from a small elephant stone sculpture which is situated on a corner bracket of the tower.